From my friend, Ken:


Maggie, it is obvious that your chicken is none other than Martin Degville or "Deg" from the momentarily famous SIGUE SIGUE SPUTNIK (think "Love Missile F-111"). See picture below. Don't be surprised if some dude from VH-1 shows up at your door wanting your chicken for an episode of "Band Reunited"!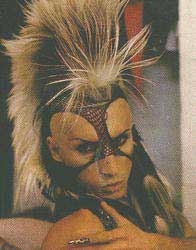 Somedays, I really love my friends!
I like Jamie's suggestion of Angela Davis. And I was also reminded of my friend Val's hair for a brief moment during the 80's.
Tomorrow I'm taking off to the wilds of Georgia for a week. It's summer camp time again and I'm going to my old camp to help set up the horseback program. I was horseback director for many years and then assistant director for a few before I finally "grew up". Now that I have moved back to the South I can go help out and visit with old friends. The only problem now is that I have to train 20 year olds and I'm starting to feel my age (oh the horror!!!).
So, I will spend the next week training the new riding staff and riding horses that have been out to pasture since August (can you say rodeo?). Hopefully I can have time to add a few updates between clearing riding trails, cleaning saddles and soaking my tired muscles. I really am getting too old for this, but it is so much fun.
Big Daddy and Monkey get to come join me for the weekend when we have our big camp reunion. It is a highlight of Monkey's year to get to sleep in a tent and shine her flashlight in my eyes all night. I'm glad I can oblige her.